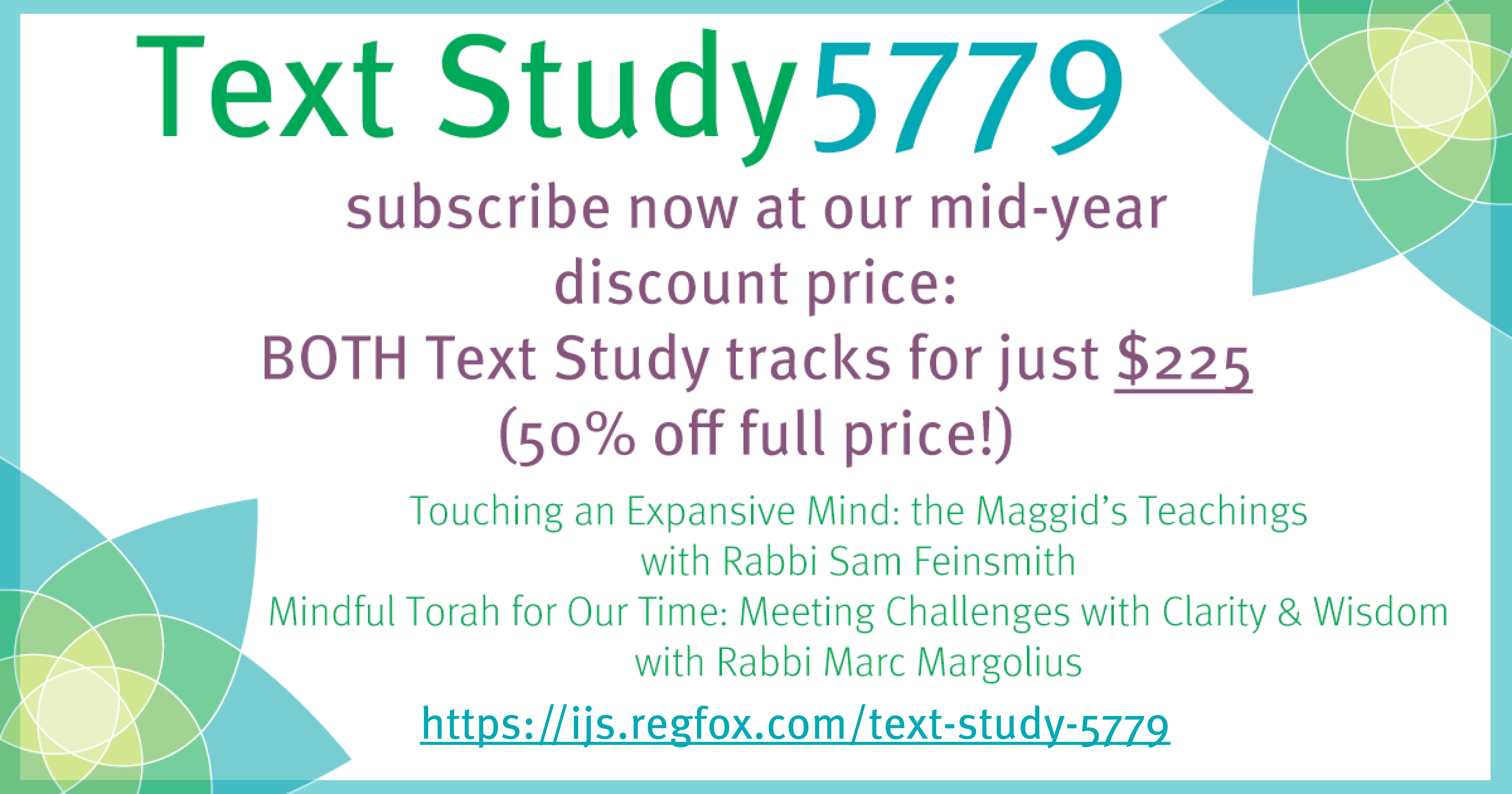 For fifteen years, hundreds of rabbis, cantors, lay leaders, and individual learners have used the Text Study program to deepen their experience of Torah, enrich their teachings and sermons, lead community study groups, and grow in practice. Join us in the profound and spiritually uplifting world of Torah study with the Institute for Jewish Spirituality.
Sign up for text study this year with Rabbi Sam Feinsmith, Rabbi Marc Margolius, or both!
Touching an Expansive Mind: $240
Mindful Torah for Our Time: $240
Two-Subscription Package: $450
Student Rate: $50 for either program, $75 for both.
If you are a student, please email textstudy@jewishspirituality.org for information on how to register at the student rate.
Click here for information about previous years' text study courses.
The first five weeks of Text Study 5779 are available to read for free as a preview before you purchase. Click below to read or download:
Touching an Expansive Mind: the Maggid's Teachings with Rabbi Sam Feinsmith
Mindful Torah for Our Time: Meeting Challenges with Wisdom and Clarity with Rabbi Marc Margolius
NEW THIS YEAR: Monthly Processing Groups
($180 per group)
For the first time, we will be offering monthly groups to process and expand on the teachings in our text study groups. Each group will meet once per month to discuss the previous month's teachings and look ahead to the coming month of learning. Space is limited!
Group options:
Applying Middot to Daily Life – led by Rabbi Marc Margolius
Meets the 1st Friday of each month from 11am – 12pm (ET), beginning November 2
This group will focus on the ways in which we can bring the practices of tikkun middot into everyday aspects of our lives.
Exploring Hasidic Texts – led by Rabbi Sam Feinsmith
Meets the 2nd Friday of each month from 11am – 12pm (ET), beginning November 9
This group is ideal for anyone just beginning to explore hasidic texts, and will focus on the process of studying these teachings, with plenty of time for questions.
Applying Middot to Jewish Leadership – led by Rabbi Marc Margolius
Meets the 3rd Friday of each month from 11am – 12pm (ET), beginning November 16
Open to anyone in a Jewish leadership role (clergy, educators, nonprofit professionals, administrators, etc), this group will focus on bringing Jewish mindfulness practice and tikkun middot into our actions as leaders in the Jewish world.
Deepening Practice through Hasidic Texts – led by Rabbi Sam Feinsmith
Meets the last Friday of each month from 11am – 12pm (ET), beginning November 30
Aimed towards individuals with some experience studying hasidic texts, this group will delve more deeply into our teachings, with more attention paid to contemplative practice.
For examples of Marc and Sam's teaching styles, check out their recent webinars based around their text study teaching streams:
with Rabbi Marc Margolius
In this webinar, Marc describes his approach of extracting a middah (soul/ethical trait) from the portion, and apply it in daily living through mindfulness practice, using parshat Vayera as an example.
with Rabbi Sam Feinsmith
In this webinar Rabbi Sam Feinsmith uses a text from Sefer Torat Ha'maggid to lay the foundations for a Neo-Hasidic orientation to mindfulness practice in daily life. After a period of text study and reflection, Sam leads a spacious guided meditation to explore how the text sits with our inner experience.
For over fifteen years, IJS has offered weekly translations of classic Hasidic texts for personal study and spiritual growth. This year, Rabbi Sam Feinsmith will offer a deep dive into the teachings of Rabbi Dov Ber, the Maggid of Mezeritch (1704-1772), the Ba'al Shem Tov's successor as the leader of the Hasidic movement.
One of the most influential figures in the history of Hasidism, Rabbi Dov Ber inspired a generation of devoted students to spread the teachings of the Ba'al Shem Tov to communities across Eastern Europe, transforming Hasidism into a popular movement. Yet he differed from the Ba'al Shem Tov in adopting an orientation to Jewish practice that was less ecstatic and more contemplative. As such, his teachings provide a rich foundation for meditation practices to cultivate the mind and point us toward the expansive ocean of divine awareness within.
Using Sefer Torat Hamagid (compiled 1969) as our base text, each week Sam will provide an annotated translation of one of the teachings on the weekly Torah portion, along with a commentary that elucidates the interpretive dynamics at play, text-to-life reflection questions, reflections on subtle aspects of the inner life brought to light by the text, and a practice to bring the lessons of the text into everyday life. As always, his commentary will support your capacity to situate and deepen your mindfulness practice within native Jewish teachings and practices. Though this text study stream assumes some knowledge and experience with Jewish learning, Kabbalah, and Hasidic text, it is a great opportunity to those just beginning to explore these types of text. If you are just getting started, we recommend joining our new processing group on reading Hasidic text to deepen your learning!
Click here to read the first five teachings of Touching an Expansive Mind for free!
Challenging times can induce paralysis or elicit our lesser selves. When we notice these things arising, could can integrating mindfulness practice with Torah study help us actualize our innate capacities for resilience, awareness, wisdom and goodness?
This year, join Rabbi Marc Margolius in exploring the weekly Torah portion through the lens of mindfulness practice by paying close attention to middot, core spiritual/ethical qualities within each of us. Rabbi Margolius will use Jewish texts as a foundation for ongoing spiritual practice to help us wake up, grow in discernment, and bring our best selves to the challenges of life today.
Drawing from both contemporary sources and classic Rabbinic, Hasidic, and Mussar commentators, this study program will offer an overview of middot-related themes arising in each parasha. Each week will delve deeply into at least one middah to inform our spiritual practice and enhance our daily lives. Rabbi Margolius will include specific practices (such as suggested focus phrases, daily actions, prayers, poetry, and music) to help integrate the teaching into daily living through ongoing mindfulness practice and application of the week's middah. This text study has something for everyone, and is written to be fully accessible for less experienced students, while also rich and meaningful for those with more background.
Click here to read the first five teachings of Mindful Torah for Our Time for free!