Posts Categorized:

Executive Director's Blog
Last week we celebrated a special anniversary: it has been one year since my husband and I became foster parents to a wonderful 18-year-old refugee from West Africa. It has been a year of great blessing and joy and also of tremendous learning, as you can imagine, given that this is our first time parenting and we jumped right into teenagerhood – not to mention all kinds of cultural differences.
And yet, a year in, I realize that so much of the learning is simply refining the work we are engaged in all the time anyway. For example, one way to frame it is to take the spectrum between Netzach (victory, engagement) and Hod (receptivity, gratitude). These two categories are sephirot, part of the mystical map of how Divinity moves from the infinite to the tangible in our lives. That may sound very esoteric, but the applications are actually practical and can be very helpful.
What are these two ways of being? Netzach is the quality that urges us to get involved, to fix things, to form and act and create. It is about drive and success and doing. Hod, on the other hand, which literally means "glory," is the quality of giving space, letting it be, feeling thankful for the ways things are, not needing to change a thing. Interestingly, both of these are understood to be divine qualities that can manifest in us and both of them are worthy of cultivation as part of our spiritual repertoire. The question is when do we bring what to bear.
So: when do we push (encourage) our foster son to do certain things and when do we stand back? When do we ask questions and when do we just give him his space? When do we lead with feeling energized and active and when do we lead with simply feeling grateful for the miracle of our family coming together?
These are the questions in every relationship – with children, parents, partners, friends, co-workers and neighbors. These are the questions we can ask looking out at our country and our world. And these are the questions we can ask of our own sweet lives. How much action? How much acceptance? How do we find the wise balance? How do we respond to what is needed at this moment again and again?
Sometimes just having the framework of these two qualities can help us notice our habitual responses and make better decisions. We hope that this investigation of netzach and hod will support you in your practice.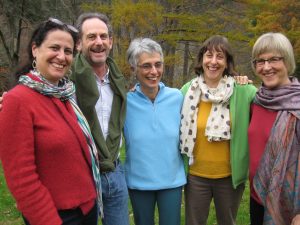 This month begins IJS's 20th anniversary year! I was not personally present at the very beginning in 1999 when Rachel Cowan (z"l) and Nancy Flam brought together an extraordinary group of spiritual teachers and seekers in a process of sharing and learning that became the Institute for Jewish Spirituality. So much has changed and evolved since then.
But one thing that has not changed has been the core values that undergird our work. Like all values, they are aspirational. Like all intentions, we fall short occasionally and recommit ourselves to them anew. As we take stock of the last 20 years and begin the process of reflection and rededication towards the next 20, I wanted to share these powerful values with you in hopes that they inspire you as much as they inspire me.
Institute for Jewish Spirituality: Our Guiding Principles
Shiviti Adonai lenegdi tamid: I strive to cultivate an awareness of God in every moment.
We seek a spiritual practice that wakes us to God's reality in all aspects of our lives. The whole earth is full of God's glory!
Tzelem Elohim: The Divine Image
We affirm and strive to reflect the divine and infinite potential in each human being.
Kehilla Kedosha: Holy Community
Creating and maintaining a safe, intentional community allows for deep listening to ourselves and to others, and opens us for healing, connection and insight.
Im eyn ani li mi li?: If I am not for myself, who will be for me?
Jewish leaders best serve and inspire their communities when they cultivate and refine their own spiritual lives–you can't give what you don't have.
La aleycha hamlachah ligmor: You do not have to finish the work, but neither are you free to desist from it
Spiritual growth is a life-long process that requires ongoing commitment, practice and guidance.
Tikkun HaNefesh and Tikkun Olam
We understand that our work to cultivate awareness leads inexorably to acts of kindness and justice.
Ki tavo chochmah b'libeycha, v'da'at l'nafsehcha yinam: For wisdom will enter your mind and knowledge will delight you
While we inherit a unique religious tradition, we are open to, benefit from, and integrate wisdom from other traditions.
Redeeming Sparks of Language
We are committed to helping people connect their traditional Jewish God, language, and ritual with their authentic inner experience in order to nurture and expand their sense of experiencing of God as Jews.
Mechadesh b'chol yom tamid ma'aseh beresheet: The world is constantly created anew
We believe in the power of Teshuva – the capacity of Jews and Judaism to change and grow and thereby be of greater service to themselves and to the world.
The end of the year is often a time for looking back, a kind of collective secular cheshbon hanefesh: an accounting of what has transpired over the year. In addition to the list of top movies and songs, we can take a sober look at what were the big news stories, who passed from this world, where we are as a community, as a culture, as a planet, compared to a year ago.
It is easy to feel discouraged at the state of the world, to want to root up and throw away all the things we don't like. But the neo-Hasidic tradition offers us a different approach. We are guided towards a process of hamtakat hashoresh, "sweetening the root."
The phrase comes from a startling image. Imagine a great Tree of Life hanging upside down with the roots in the air. The roots are the source from which blessings flow down, through the trunk of the tree, through the various branches and then down into the many manifestations of leaves and blossoms that brush the earthly realm. Everything that happens in this world starts with the roots.
But the flow can get blocked or constricted in all kinds of ways. We experience this as the various forms of suffering. The answer, however, is not to chop things up and get rid of them. Instead, it is to bring things back into alignment so the sweetness at the root can flow unimpeded into the world.
So when we face suffering out in the world or in our personal lives, one possibility is to work to discover the hidden sweetness in the difficult thing itself that might help us act from a place of greater wisdom, connection and spaciousness. So for example, when I feel the heat of anger, perhaps I can discern the cooler energy—but energy nonetheless—of healthy self confidence that will help me act from holy boldness. When I feel fear, perhaps I can move, even slightly, towards a spiritual sense of humble awe in the face of all that is bigger than me. When I feel the grief of loss, perhaps I can shift my perspective towards receiving the love that continues to flow.
In each case, the goal is not to get rid of the difficult emotion. It is to sweeten it, just a little. Because on a deep, often hidden level, there is one Source for all.
May our looking back over 2018 bring us wisdom and perspective and may 2019 be a sweeter year for all.
Hanukkah is upon us and with it the aptness of all the metaphors of bringing light into the darkness. A less examined theme of the holiday, however, at least in many spiritual circles, is holy boldness – the decisive action that the Macabees took in the face of seemingly insurmountable odds that enabled them to defeat the wicked government that vastly outweighed them.
We tend to shy away from exploring this kind of strong action because it can seem so antithetical to the spiritual endeavor of finding inner peacefulness and because it can too easily veer into bold fanaticism, as the Hasmonians themselves exemplified. And yet, holy boldness, the courage of the spiritual warrior, is an important middah, or trait, even (and maybe especially) for the contemplative repertoire.
One teaching on how to approach this boldness comes from the daily liturgy. In the morning service, the first prayer before the Shema offers an image of angels. The prayer book describes the angels in vivid terms: "They are all loved, they are all clear, they are all bold and they all do the will of their Maker with fear and awe."
At first, the description appears rather random. Why those three particular adjectives, other than the fact that the Hebrew words for "loved," "clear" and "bold" follow the order of the Hebrew alphabet? But if we look carefully, using what we know from our contemplative practice, something quite beautiful emerges.
First, the angels know that they are ahuvim, loved. This is the crucial first step, to take in the awareness of being precious, seen, cherished. From that place of warmth and connection, they can be brurim, clear. Feeling loved can help clear the delusions so that we can see with greater clarity what needs to be done, as well as our motivation for acting. And then, when the path forward is clear, the angels can act as giborim, as courageous and bold heroes. But even here, they are aligning themselves with humility and a sense of serving – not of their own will, but of the great Source of life and creativity in the universe.
What marvelous instructions! A courage that is rooted in love, shone through with clarity and in humble alignment with what needs to happen. May this Hanukkah provide us with opportunities to explore this holy boldness so that we can through our actions help bring more light into this dark season.